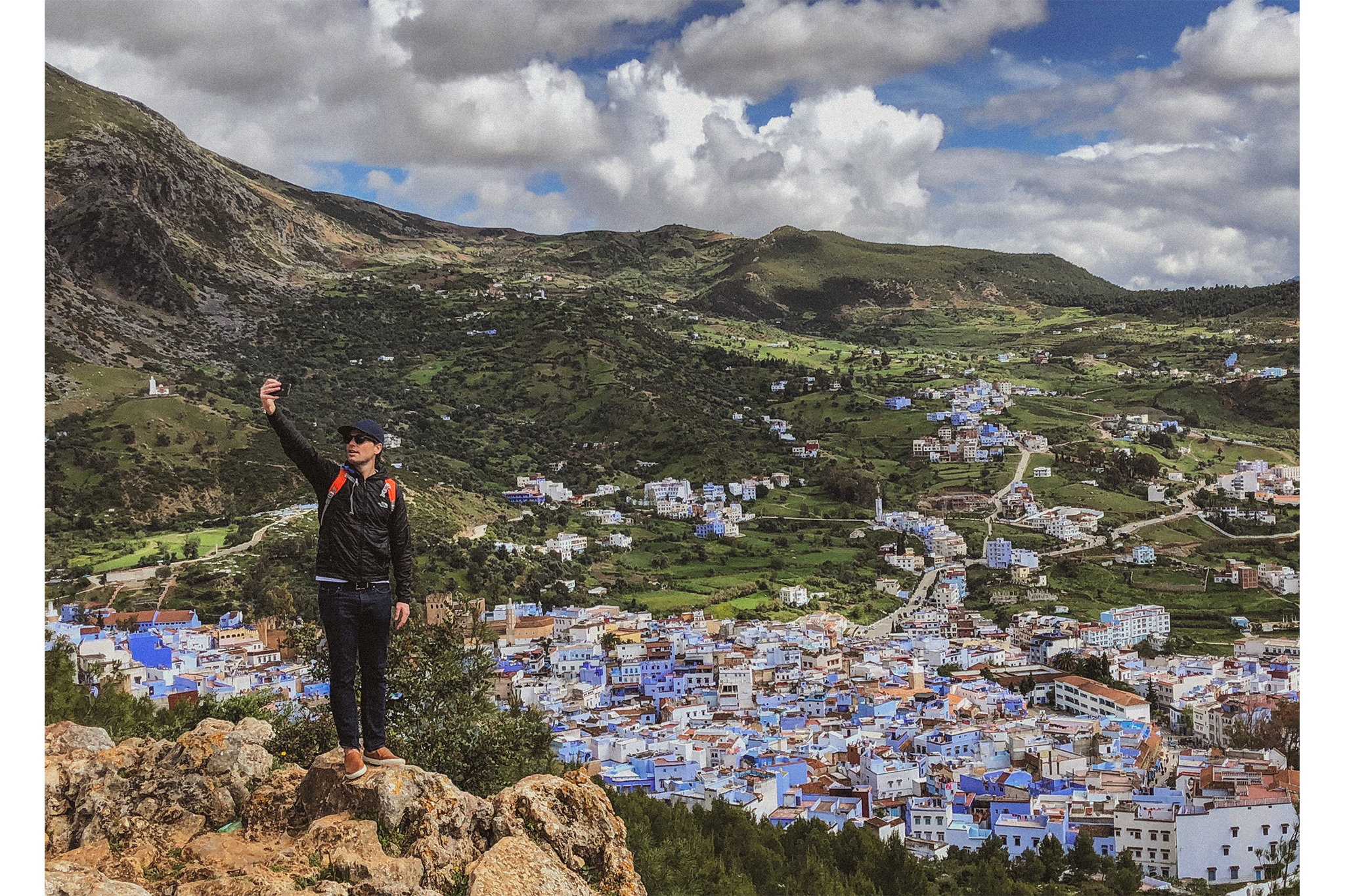 MOROCCO (LAYOVER BARCELONA) - TANGIER - CHEFCHAOUEN - MARRAKESH - ESSAOUIRA - CASABLANCA
April 17, 2019
Tangier, Morocco
IMPORTANT VOCAB WORDS AND PHRASES
MEDINA (mə-ˈdē-nə) - Old part of a town or city typically walled with narrow streets and endless market stalls containing leather goods, jewelry, spices, pottery, everything. Generally only walkable. You may get run over by a motor scooter You WILL get lost. Like, a lot.
KIF (kēf) - AKA Hashish. AKA Cannabis. AKA The Devil's Lettuce. If you even remotely resemble a tourist you will be offered this at every turn. If you're in a Medina, that's a lot. Smoke at own risk.
TAJINE (täˈzhēn , -ˈjēn) - "Shallow Earthen Pot" A type of clay container used specifically as a cooking vessel for stews of all types that generally include spices such as ginger, turmeric, saffron and chili. You want the lamb + dates. Trust me. Just do it. Not to be confused with Tangia (see below).
TANGIA - "Earthenware Urn" Another specialty clay cooking container specific to Marrakesh. Slower cooking time usually over hot embers/ash instead of directly over an active fire. Meat, Meat, Meat.
HUMMUS (hə-məs)- Stop looking for this.
RIAD (ˈri-ad)- Traditional Moroccan House with an interior garden or courtyard. Many modern hotels are called Riads. They will look like a shady AF, unmarked alley door on the outside, but open up into a surprising private oasis.
HAMMAM (hə-ˈmäm)- We've got two types of these suckers. 1) Public - where locals go to clean themselves. This is generally a social activity separated by gender residing in a large, public steam-room with shared taps. Bring your own black soap and exfoliating gloves. 2) Spa - Fancy AF. Soak in a pool or sit in a steam room, then someone rinses, exfoliates, and massages you. Be prepared to encounter some serious language barriers with your specialist resulting in awkward instructional fails and wild explanatory hand gestures. Your naked boobs will maybe/probably/definitely be aggressively exfoliated. Watch your step after you're encouraged to heavily lubricate yourself with argan oil for 20 minutes. Good luck getting your pants on after that.
HAPPY WIFE, HAPPY LIFE (ˈha-pē \ ˈwīf \ˈha-pē \ ˈlīf) - While lost in the maze of media stalls, shopkeepers will constantly harass your male traveling partner to buy their goods. Each one will try to guilt him into showering you with gifts, reminding him to consider his future "happy wife, happy life!" they'll exclaim while shoving saffron or a rug in his face. This will never stop being funny.
April 19, 2019
Chefchaouen, Morocco
Joe ordered us a private car to bring us from Tangier to Chefchaouen, the mountain town where we'll be running tomorrow. I was against it, at first, as I generally opt to travel via bus or train aka the most local route (aka most difficult bc I'm a masochist). He's very proud of the the fact that he has literally never ridden a bus and wasn't about to break that streak in Africa. I have to admit, it was the right choice since even our driver was having difficulty finding our AirBNB. After scraping the side of his car along one of the narrow streets, we left the vehicle behind in a tiny parking garage that only the most experienced of tetris junkies could navigate. He was able to get ahold of our host and find the building on an unmarked street, inside an unmarked door. Unfortunately for us, the apartment wasn't ready to move in, so we left our belongings and went exploring. Narrow, winding streets on a steep hill littered with Spanish and Moorish architecture all painted shades of blue to match the sky; I now understand why it's called "the Blue City." Tourists crowded the streets, "influencers" in their perfectly manicured selfie outfit for their instagram story. I think most of these people just come to take a photo and then leave without actually experiencing any of the city, the culture, or the mountains towering to the North.
After a few hours and a lot of back and forth WhatsApp messaging with our host, we were finally able to get settled into the apartment which included a kitchen, living room, our own bedrooms (Queen beds each with a private bath) and a balcony looking towards the Spanish Mosque atop a tree filled hill. We can hear the Ras El Ma River rushing below us while we snacked on a baguette and jar of Nutella; Carbo-loading day is the best day! The temperature in town was far colder than I had anticipated at a brisk 60-65 degrees Fahrenheit. In need of a little warmth, I started rummaging through every drawer and cabinet in my bedroom to see what easter eggs were hidden. And there, folded neatly on the highest shelf of the closet dresser, I found it. A massive, ten foot long fleece blanket, a deep, majestic purple. So cozy. So regal. Uncontrollably giggling, I draped it across my shoulders like a massive cape and marched out towards Joe exclaiming I found bedding "Fit for a Queen!" in my most elegant, booming British accent (closer to cockney, really). Jealous AF, Joe runs to his room and finds his own blanket "Fit for a KING." We stomped around as King and Queen of the AirBNB until the Nutella ran out and it was time for the race briefing.

April 20, 2019
Chefchaouen, Morocco
The primary languages here are Arabic, French, and Spanish…mainly French. My Spanish is rusty at best while the only French words I know are related to food. The race briefing last night was mainly in French (none of which was culinary based), meaning I was mainly in panic mode. 36 hours in and we've already reached the first tears of the trip. All I know for sure is the information I received via the Facebook event administrator stating the following (commentary in BOLD):
The race actually is on Saturday, April 20th at 6:00am GMT, the 42K race has an elevation gain of 2400m (I've been training on a treadmill at 0% incline. Cool, cool, cool, cool, cool… ) and an amazing nature views, to participate you'll need a medical certificate of physical fitness that proves that you're able to participate in that kind of races (whut), also some necessary and required equipment here's a list :

- personal cup: 15 cl minimum (makes sense)
- water reserve: minimum 2 liters (sure)
- lamp with sufficient energy reserve (…)
- survival blanket (…!!!)
- whistle
- first aid kit
- food reserve: minimum 1500 kcal (now we're talkin')
- waterproof jacket and pants (Gore-Tex type) to withstand bad weather in the mountains (BAD WEATHER K)
- lighter in working order (…am I camping now?)
- the road book of the race
- mobile phone with option allowing its use in Morocco (put in its directory the security number of the organization, do not hide its number and do not forget to leave with charged batteries) (….uh oh, didn't unlock my phone. It's ok right? Right??)
- "technical" warm jacket and pants to withstand potentially cold altitude temperatures at night (WHAT DO YOU MEAN AT NIGHT)
- a minimum sum of 300 dirhams (about 30 €) to compensate for the unexpected (halp)
After seven hours and thirty-three minutes, including 20 minutes of losing the trail (twice), I crossed that finish line without the need of a med kit, emergency whistle, or waterproof pants. 30th place out of 70.