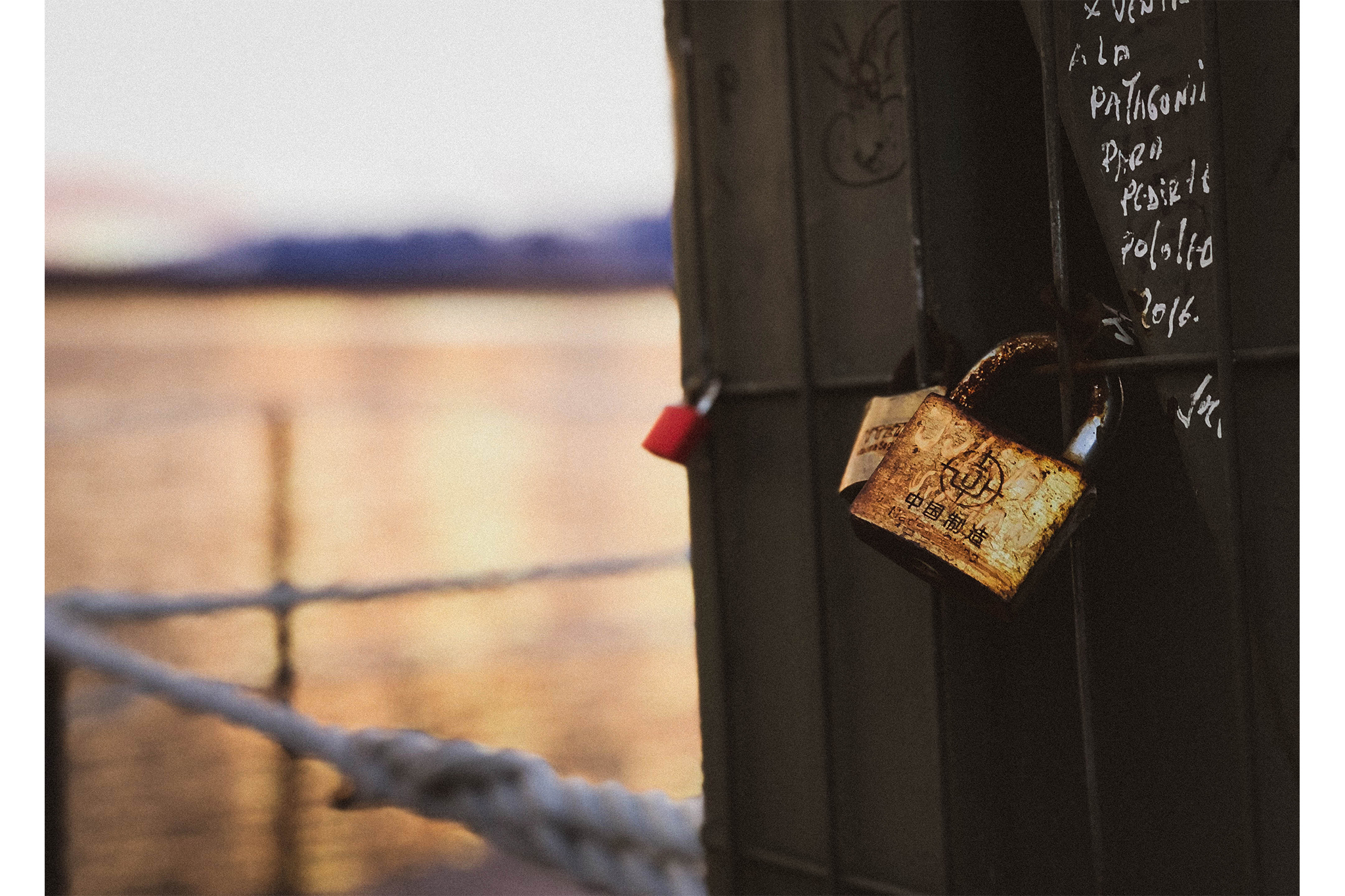 CHILE SANTIAGO - PUERTO NATALES - PATAGONIA - SANTA CRUZ - LOLOL - VALPARAISO
September 06, 2018
Puerto Natales, Chile
I'm at the bottom of the world and the sunsets have never been more vibrant. I really wish I had brought my proper camera instead of just this iphone. There's a small, graffiti-covered skate park butting up against the sea; a handful of teenagers are showing off. Or, at least trying to. Patagonian mountains in the distance, a cruise ship floating nearby, birds chasing one another overhead, and a gang of street pups chasing down every passing car behind me. It's cold and sleepy and isolated: I can't wait to see what's going to happen next, even if it's just more quiet. I could use more quiet.
September 12, 2018
Patagonia, Chile "W" Trek Day 03 - Los Cuernos - Mirador de Las Torres - El Central
I got up a little later than I had wanted to; rain was still pounding my tent as my alarm went off (as If I could sleep through that wind, anyway) and I couldn't bring myself to start this already tough day as a soggy mess. Alex was waiting for me at breakfast; I was sure he would bail since my plan was so aggressive. Normally a two day hike, I was on a mission to trek from Los Cuernos, up to the Torres lookout and back town to the final hut in El Central before sundown. The weather was looking to be miserable tomorrow; with definite heavy rain, fog, and severe winds the terrain would be a mess and I'd miss the entire purpose of the hike - to see Los Torres del Paine (pine-ay. Don't say "pain;" I learned that the hard way) - it was today or never.
A double rainbow plunged into the water below us as the clouds parted with the sunrise. We could see water tornados from the brutal wind crossing the lake we passed; it was blowing so aggressively, Alex had to chase his hat down the trail. For fear that the weather could shift at any moment, I wouldn't let us stop until we got the the Chileano Campground where we could take a little sandwich break and swap to our day packs for the final leg up to the top. Since it's still shoulder season, hardly anyone was around; a group of eight departed just as we arrived and then we were alone. We ate quickly and continued up the trail before the wind had a chance to chill us to the bone. The trail quickly got icy after a fun little winter wonderland style jog through the woods; we quickly passed a few slow-going day hiking groups and soon were alone, again, on the most difficult stretch of the trek. We scrambled through deep snow not quite stiff enough to hold our body weight. I wish I had thought to pack gators in order to protect my ankles. Once we cleared the trees the path was difficult to find; just a few orange poles sticking out of the snow. I could make out a few footprints to follow; the wind had blown soft snow over most of the trail that lead directly across a steep incline. One slip and you'd be at the bottom with nothing to break your fall. Luckily we had poles to hold us steady. I had to use both on the downhill side to keep my balance: it felt like running through the gauntlet on American Gladiators. From there we curved around giant rocks, sinking up to our knees in the snow. Once the ground leveled out I looked up and we had made it. Three majestic towers of rock jutting into the sky at the foot of a lagoon. It was quiet and still from where we stood. We could hear gusts of wind in the distance coming for us from time to time with enough warning to hide behind a rock until it passed. For a solid 20 minutes we had the view to ourselves. We stayed as long as possible until some loud, young hikers showed up to ruin our zen. The trail back down had already extensively deteriorated, iced over wherever there wasn't mud; it was more of a semi-controlled slide down to the bottom instead of a hike, trying to avoid rocks and other hikers without falling on our butts.
We picked up our main packs and headed back down the trail to El Central. The steep terrain was starting to destroy my knees; at this point the first two tough days plus the marathon had caught up with me and I was slowing down from exhaustion. Since I was no longer in a rush, I told Alex to go ahead of me; he was hesitant for a while but after come convincing he finally let me take my sweet time and took off. Glad to finally be alone, I sat down under a tree and had another snack just to make sure I really had the trail to myself.
Near the bottom I could overlook a barren rock valley; I watched a team of horses galloping across as I made my way down. I crossed a small bridge over a shallow river and then lost the trail. I had two options, go through a fence and follow a trail over a hill or follow what looked to be a road along the river. I turned around to survey my surroundings; I was all alone. Speaking aloud to myself I narrated " OK, I walked down from there, there's a sign on the other side of the bridge, so this was definitely the right way..." I turned tracing my eyes along the path to the fence where I saw a FULL GROWN. PUMA. A full grown puma walking in my direction. I can't move. I can't breathe. I just think - well fuck, this is how I die. It HAD to see me. I'm wearing a neon pack for christ's' sake. Then, surprisingly it turned and leaped over the 5' fence like it was skipping over a rock; at full length at least 10' long. My eyes wide, I backed up quickly, watching it below the riverbank. Then I realized, "this is dumb, it could think I'm prey." So I scramble back up to my former position and can't see it anywhere. Panicked, I did everything wrong. EVERYTHING. I did NOT keep clam. I did NOT make myself seem large. I did NOT make loud noises. Instead, I started crying, shaking my hands out whispering "it's a puma. It's a puuuumaaaa." I then see a man on horseback not far down the road; I hunkered down like I'm dodging bullets and hustle over to him. Crying, I try and use my tragic Spanish to communicate. Flapping my arms again, I say "una puma!" He stares at me "Si." Unphased. Safe on his tall horse. I had hoped for this dream heroic scenario; he pulls me up onto his free horse in once graceful motion and rides with me over to the Refugio. Maybe I get a hug? Nope. He seemed annoyed at my hysterics and point down the road. I again cry about the puma. He makes a gentle "calm down motion" with his hands - sigue el camino", and trots away. Whelp. Let's do this. For the next twenty minutes I'm following a trail that leads me past multiple campsites and hotels, all empty, all not open until high season, while looking over my shoulder every five seconds waiting for the predator to find me. It started to rain as I finally found my dorm. And a bottle of wine. Who am I kidding, there was more than one bottle of wine.
Miles -19.4
Book Time - 13 hours
My Time - 7 Hours!

September 16, 2018
Santa Cruz, Chile + Lolol, Chile
I would have liked to sleep in a bit (a lot) later today due to this serious hangover. Yesterday was aggressive - two winery tours, a local wine tasting, a local restaurant and club celebrating Fiesta Patrias. Let's just say I tried a lot of Chilean wine and not enough empanadas. However, today was my only day to visit the nearby town of Lolol, so headache or not, this was happening. I have to be honest, a big part of this was for funny pictures. It's a tiny town about 25 minutes out of Santa Cruz with a cute little center plaza and that's about it. I jumped into a collectivo for the first time; I stood in an alley next to a spray painted wall that said "Lolol" above a tiny bench until a taxi rolled up. We waited another twenty minutes until the car filled with three other people headed the same direction. His erratic driving was almost too aggressive for my squirrely insides, doubling the speed limit and passing every car in our lane, sometimes a little too close to oncoming traffic. The town was so peaceful when I arrived; it seemed like everyone decided to go to church before the wine expo so I took myself on a little photo tour; Lolol Biblioteca, Lolol café, Lolol iglasia, Lolol basura.
I thought I'd want to spend the day trying local wines and snacks at the local wine expo, but realized I just couldn't do another day of that, so I thought I'd try and make it back to the fancy restaurant at Montes Winery for lunch. I didn't know when I was on my tour yesterday, but their restaurant (Fuegos de Apalta) is owned by the world famous chef Francis Malmann who was featured on Netflix' "Chef's Table." I hustled back to the hostel in time for them to get me a cab and to the restaurant by 2:30 (It's only open until 3). En route the driver asked me if I had a reservation….uh…no. He gave his head a little shake. "I know! I know! I just want to try and if I can't get in, I understand." Ya see, most people make reservations at least a month in advance. The driver was kind enough to walk up with me and try and coax them into finding me a spot. The hostess, clearly annoyed, told me she would get me a table. She brought me to a small spot outside; it was perfect; the whole restaurant is completely glass and sits on the edge of the vineyard. A fire pit sits in the middle where you can watch meats and potatoes cooking on open flames throughout service. My table outside was on a wooden catwalk-like-dock jutting out into the vineyard. The air was crisp but the sun was shining; two men in ponchos sat nearby playing acoustic guitars and singing local tunes. I proceeded to have one of the most extravagant lunches of my life. A three course meal; the highlight being a giant slab of rare meat covering a diner plate. I drank Purple Angle; a Carmenére with James suckling score of 99 points; not to shabby (even for 26 USD a glass). I finished off the meal with a trio of desserts…and another glass of wine. Tomorrow, I'll be off to Valparaíso!